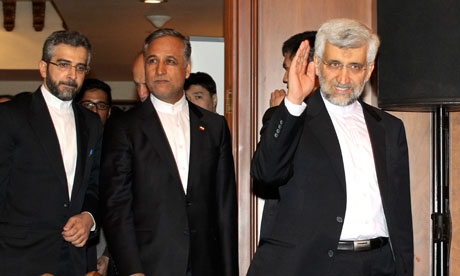 US and Iranian leaders often seem to be talking past each other. But President Obama's Persian New Year's message drew rare acknowledgement from Iran's top negotiator at nuclear talks in Kazakhstan this past weekend. What prompted Saeed Jalili's remarks were not the usual issues of contention in stalemated nuclear talks–20% enrichment and buried bunkers–but poetry; specifically, Obama's citation in his March 16 Nowruz message of a couple lines of poetry from the 14th century Persian poet Hafez.
"As you gather with family and friends this Nowruz, many of you will turn to the poet Hafez who wrote: 'Plant the tree of friendship that bears the fruit of fulfillment; uproot the sapling of enmity that bears endless suffering," Obama said in the videotaped Nowruz message, which stressed his continuing preference to peacefully resolve concerns about Iran's nuclear program, and urged Iran's leaders to take steps to reduce tensions and accept a "practical solution."
Jalili–speaking at an April 6 press conference after two days of intense but inconclusive talks with six world powers that failed to produce much headway–said the message of the 700 year old poem cited by Obama is that he should ease sanctions on Iran if he wants to reduce enmity between the two countries.
"If the parties want to gain the trust and confidence of the Iranian people, they have to move" to stop engaging in negative behavior towards the Iranian nation, Jalili said, in answer to a question from an Iranian journalist if he saw any sign the US was prepared to lift economic sanctions. "This is always what we said and insisted upon."
Regarding "the message delivered by President Obama for Nowruz," Jalili, speaking through a translator, continued, "the gentleman at the end read a poem by Hafez. The poem says you should plant saplings of friendship and uproot the trees of enmity. "
"I believe the message of the poetry given to the President by the …Iranian people [is that] the [hostile] behavior in the past has produced nothing," Jalili continued, "They must redress their ways."
Iran scholar Haleh Esfandiari said she found Jalili's mention of Obama's Nowruz message somewhat surprising, given that it highlighted the American president's show of respect for a cultural figure revered by Iranians.
"It's quite traditional for Iranians to recite poetry when they send a message, and I think what Obama did, he reached out to the Iranian people in their own culture," Esfandiari, the director of Middle East programs at the Woodrow Wilson International Center for Scholars, said Wednesday.
Iran's Supreme Leader Ayatollah Ali Khamenei, speaking a few days later in his annual Nowruz policy speech in Mashhad, showed no such sign of appreciation, though he did seem to be responding to Obama directly on several points.
Though the "Americans send messages to us through different channels, asking us to negotiate with them regarding the nuclear issue," Khamenei said in the March 21 Mashhad speech, he remained skeptical that the United States really wanted to resolve the Iran nuclear file.
"If the Americans wanted to resolve the issue, this would be a very simple solution," Khamenei said. "They could recognize the Iranian nation's right to enrichment and in order to address those concerns, they could enforce the regulations of the International Atomic Energy Agency."
"if the Americans sincerely want to reach a solution, I will give them the solution," Khamenei added. "The solution is that the Americans should stop being hostile towards the Islamic Republic and the Iranian nation. Offers of negotiation are not a rational and reasonable solution. … they should stop being hostile if they want to put an end to the problems that exist between us."
(Top Photo: Iran's lead nuclear negotiator at nuclear tallks in Almaty Kazakhstan February 27, 2013 by the AP. Illustration: Detail of an illumination in a Persian manuscript of the Divan of Hafez, drawn in the 18th century; British Library, London.)