Four days after entering Iran's presidential race, Iran's top nuclear negotiator Saeed Jalili met with European Union foreign policy chief Catherine Ashton in Istanbul on Wednesday.
'We had a useful discussion. It was not a negotiating round," Ashton said after the dinner meeting, which was held at Iran's consulate in Istanbul. "We talked about the proposals we had put forward and we will now reflect on how to go on to the next stage of the process. We will be in touch shortly."
The negotiators' meeting comes as six world powers have more or less put Iran nuclear diplomacy on hold while Iran's presidential campaign, scheduled for June 14th, plays out.
Jalili's entrance into Iran's presidential race highlights some of the complications western negotiators confront in securing a nuclear deal with the Islamic Republic.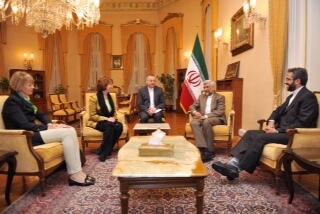 While Iran's nuclear file–as lead US negotiator Under Secretary of State Wendy Sherman told a Senate panel Wednesday– is controlled by Iran's Supreme Leader Ayatollah Khamenei, not the Iranian president, the deep fissures that have roiled the Iranian regime under the polarizing Ahmadinejad presidency have greatly complicated international negotiators' task by making internal Iran consensus that much harder for Tehran to achieve.
Jalili, 47, a trusted Khamenei aide who has served since 2007 as the secretary of Iran's Supreme National Security Council (SNSC) — the Iranian equivalent of National Security Advisor–has managed to largely bypass the bitter feuds that have polarized Iran's ruling factions, analysts and associates observe. As a candidate who may be able to unite key conservative factions, a Jalili presidency potentially offers the prospect of a more consolidated Iranian leadership, which might be able to muster internal Iranian consensus if the Leader decides to make a deal, some analysts suggest.
But Jalili's elliptical negotiating style and somewhat retro worldview, while no doubt reflecting the milieu and instructions given from the Supreme Leader, also magnify the extreme difficulty of negotiating with an Iranian regime that is so isolated from and mistrustful of the outside world.
"I think he is the anointed one," Suzanne Maloney, a former State Department Iran analyst at the Brookings Institution Saban Center, told Al-Monitor. The regime "may test run it, see how he [does], if anybody else appears to take off."
While Jalili has developed the reputation in some Iranian circles of being a not very effective international negotiator, Maloney said, "what is interesting is that Jalili managed the Ahmadinejad-Supreme Leader divide astutely. He has not been forced to side with one or the other."
Current and former Iranian associates describe Jalili as a pious and intelligent man, who has earned the trust of the Supreme Leader, but shown a disinclination to deeply engage with the modern world.
Born in 1965 in the Iranian holy city of Mashhad, where Supreme Leader Khamenei is also from, Jalili is an Iran-Iraq war vet who joined Iran's foreign ministry around 1990. (Earning his PhD from Iran's Imam Sadeqh University, Jalili wrote his doctoral dissertation on the prophet Mohammad's diplomacy.) He worked in the 1990s as an official in Iran's foreign ministry, and then in 2001 joined the Supreme Leader's office. In 2005, he became an advisor to new Iranian president Mahmoud Ahmadinejad. Since 2007 he has served as the Iranian equivalent of National Security Advisor and Iran's chief nuclear negotiator.
"Before he became secretary of the SNSC, he worked in the office of the Supreme Leader for some time, in the inner circle, in the international affairs department," an Iranian analyst and associate, speaking not for attribution, told Al-Monitor. "He is liked [there] as somebody who is down to earth, who has a simple life, very honest. He is the prototypical revolutionary whom they like within the clerical system; they [and the Supreme Leader] trust him in a way."
But part of Jalili's appeal for Khamenei and the clerical circles is a kind of self-selecting isolationism and retro way of looking at the world, that seems somewhat stuck in the 1980s, when Iran fought an eight year war with Iraq, the Iranian analyst observed.
Though Jalili served for over a decade in Iran's foreign ministry, he never served abroad, and allegedly turned down an offer to serve in Latin America, the associate said. And while Jalili worked for a time in the Foreign Ministry's Americas' bureau, he is not believed to be able to speak much English, the lingua franca of international diplomacy which is spoken by many Iranian diplomats, though his associate said he believes Jalili can read and understand it.
"That's the real problem," the Iranian analyst said. Figures like Jalili who have ascended to the top of Iranian conservative political circles in recent years "are not stupid. They are intelligent. But they have not been socialized in the way that global politics works."
"These guys have a totally distorted conception of politics globally," the Iranian analyst continued. "That naivete may be a blessing for them."
As functionaries in Iranian bureaucracies in the 1980s and 90s, "these guys were never able to move up the ladder for some reason," he continued. "Because they… didn't want to move in [to modern] times. They are stuck in the 1980s. They dress in the revolution, the landscape of Iran politics in a changing world environment. They never develop new ideas, new concepts."
With no real economics or management experience and a modest, mild mannered persona, Jalili may have a hard time winning popular support–even with the quiet backing of Khamenei and the machinery of Iran's "deep state" security establishment (the Sepah/ Revolutionary Guard, etc.), the Iranian analyst assessed.
Since the surprise candidacy of former Iranian president Hashemi Rafsanjani, "conservative forces are in disarray," he said. But there were signs, he acknowledged, that Iranian conservative factions may be considering mobilizing to back Jalili.
(Top Photo: Iran's Supreme National Security Council Secretary and chief nuclear negotiator Saeed Jalili listens during a news conference in Almaty February 27, 2013. REUTERS/Shamil Zhumatov/Files. Second photo: European Union foreign policy chief Catherine Ashton meets Jalili at Iran consulate in Istanbul May 15, 2013. European External Action Service (EEAS) photo.)