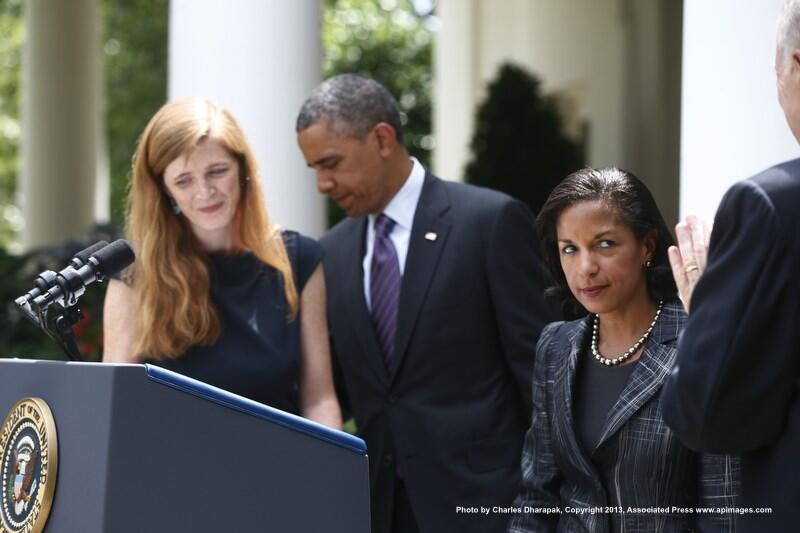 President Obama's National Security Advisor Tom Donilon will step down, to be succeeded by UN envoy Susan Rice, the White House announced Wednesday. President Obama will nominate his former White House advisor and humanitarian expert Samantha Power to be the next US envoy to the United Nations.
The announcement comes in advance of President Obama's first meeting with China's President Xi, in California later this week. Donilon has made the US "rebalance" to Asia a focus of his tenure as Obama's top national security advisor, and traveled to China late last month to discuss the agenda.
The Back Channel reported May 3rd that Donilon was expected to step down this summer, several months earlier than previous reports had suggested. Among his considerations, associates said, was that he had been doing this for over four long years, and family medical issues. (Sources say that Donilon's wife Catherine Russell, former chief of staff to the Vice President's wife Jill Biden, is recovering from a medical issue. Obama earlier this spring nominated her to be his next ambassador at large for global women's issues.)
White House associates say Rice and Power, like Donilon, are trusted Obama advisors who have been in his inner circle of national security confidants going back to his 2008 presidential campaign. As such, sources anticipated a relatively smooth transition and a good deal of continuity on major foreign policy issues.
"I think the interesting thing about this transition is it's clearly been planned for a long time," former White House spokesperson Tommy Vietor told the Back Channel Wednesday. "It's not a shake up. It's a transition in which Susan and Sam can hit the ground running because they have been doing it for four years."
"The key to a successful national security adviser is having the President's trust," former Pentagon Middle East advisor Colin Kahl told the Back Channel Wednesday. "That is what made Donilon such a power player and the same will be true of Rice, who has long been close to Obama."
It remains to be seen if the elevation of Power to the UN and Rice's move to the White House will shift the Obama administration's thinking towards greater Syria intervention, given their reported roles inside the Obama inter-agency debate advocating for NATO intervention in Libya, and Power's expertise in humanitarian intervention and as the author of a Pulitzer Prize winning book on genocide.
"Power and Rice are strong and principled advocates of atrocity prevention, but are not the irresponsible liberal interventionists often portrayed," Marc Lynch, a Middle East expert at George Washington University who advised the Obama 2008 campaign on foreign policy said Wednesday. "They are close to President Obama on foreign policy and will face the same limits and obstacles constraining the current policy on Syria. I wouldn't expect them to rapidly push for a military intervention which the administration views as unlikely to succeed."
"My sense is, everyone in the government, including Susan and Sam, is going to keep pushing for a better outcome in Syria," Vietor said. "No one is satisfied with the outcome on the ground."
"It's wrong to assume that means military intervention," he added. "We have a lot of considerations to work through. What you have got are people who have been in the government who understand the role that US diplomatic leverage and military power plays, and how that can often be the single most important thing we've got. So it's certainly a significant set of changes. But it remains to be seen what it leads to in Syria."
Donilon had been looking for the right time to announce his departure, to make the transition as smooth as possible, aides said. "Tom been thinking about this for a long time," Vietor said. Rice and Donilon will work together over the next few weeks to manage the transition. Donilon is expected to depart mid-July.
While the administration's re-balance to Asia as well as the US withdrawal from Iraq were top Donilon policy priorities, his imprint as a manager of the policy process is perhaps more significant. Donilon was deeply involved in the day to day running of the inter-agency process, some say with a heavy hand, as well as discipline. Aides say he should be credited with running a national security process in which disparate views were heard and fought over internally, but where notably few high-level cabinet fights erupted publicly.
"Tom Donilon has been an outstanding national security adviser. As an inside manager of the President's national security policy process, Tom succeeded in leading a collaborative and insightful process in which all players – from top to bottom – worked together rather than against each other," Ivo Daalder, outgoing US ambassador to NATO and a friend of Donilon, said.
"It's a feat very few of his predecessors were able to accomplish," continued Daalder, who is co-author of one of the defintive studies on the role of the national security advisor, In the Shadow of the Oval Office. "He truly managed a 'no drama' process – one that produced very effective advice for the President and ensured smooth implementation of the President's decisions."
"Tom is a consummate behind the scenes player," Vietor said. "He is someone who has studied the NSC process and is an evangelist for good process. He thinks that a good process won't guarantee a good outcome, but a bad process guarantees a bad outcome."
"He saw his role was not just to be a private counselor to the president on foreign policy, but brokering discussion where all of these views were represented, and he did that ably," he added.
In Obama's NSC under Donilon's leadership, Vietor said, "behind closed doors, people disagreed loudly and often and there were huge debates. But Tom brought discipline. A lot of that is feeling like you have an open channel to the President and Donilon. That keeps people from making an end-run around that process."
On issues, Donilon pushed the administration to a more hawkish position on Iran, sources involved in the administration policy discussion said. He was an early internal advocate for central bank of Iran sanctions, while Rice was instrumental in getting UN Security Council resolution 1929, the toughest multilateral sanctions to date.
"Rice and Power are consummate pros, both representative of a 21st-century America and deeply steeped in the realities of the post-Cold War, post-post 9/11 world that President Obama must shape in his second term," Heather Hurlburt, head of the progressive National Security Network, and a former Clinton administration official, told the Back Channel of the appointments.
"By placing Susan Rice at the national security council, President Obama is making it clear that he has a clear foreign policy vision for his final years in office," Joel Rubin, a former government official with the Ploughshares Fund, told the Back Channel.
"Rice has been at the president's side from the beginning and understands how to implement his vision, which includes legacy items such as preventing the spread of nuclear weapons, advancing Middle East peace, and ending the war on terrorism," Rubin continued. "And this pick also sends a clear signal that, just like during the Chuck Hagel confirmation fight, the president wants his team and is willing to withstand political heat to put it together.
(PHOTO: President Barack Obama announces, Susan Rice, Samantha Power, Tom Donilon in White House Rose Garden June 5, 2013, by Charles Dharapak, AP.)