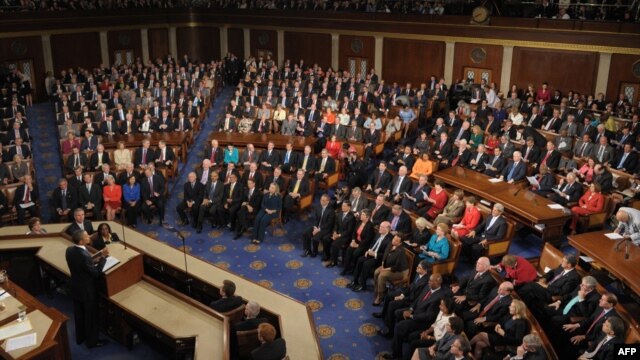 Updated 7/19:
Some 131 House members have signed onto a bipartisan letter calling on President Obama to try to advance opportunities for a diplomatic resolution with Iran in the wake of the election of Hassan Rouhani last month.
The letter, being circulated by Representatives David Price (D-North Carolina) and Charles Dent (R-Pennsylvania), is the biggest ever pro-Iran diplomacy letter from the Hill, those supporting the initiative said.
Shawn Millan, a spokesperson for Rep. Dent's office, told the Back Channel the letter had gotten 131 House members to sign on as of Friday afternoon, 17 of them Republican, 114 of them Democratic. (Full list of signatories below the jump.)
"This is not the first time that Iran has elected a president on a platform of moderation and reform, and history advises us to be cautious about the prospects for meaningful change," the 'Dear Colleague' letter signed by Reps. Price and Dent states.
"Even so, given the stakes involved for the United States, Israel, and the international community, it would be a mistake not to test whether Dr. Rouhani's election represents a genuine opportunity for progress toward a verifiable, enforceable agreement that prevents Iran from acquiring a nuclear weapon," Price and Dent wrote.
Though the letter doesn't take a position on sanctions or the possible use of military force by the United States or its allies, it cautions that "we must also be careful not to foreclose the possibility of such progress by taking provocative actions that could weaken the newly elected president's standing relative to Iran's hardliners." It also says that while members may have different views about those issues, "we should all be able to agree on the need for a renewed diplomatic push as part of our broader strategy toward Iran."
The United States expects nuclear talks between Iran and the P5+1 to resume in the fall, following Rouhani's inauguration next month and the appointment of a new Iranian nuclear negotiating team, a senior US official said last week.
Meantime, former US diplomats William Luers and Thomas Pickering this week urged Obama to consider sending Rouhani a note of congratulations upon his inauguration, in a piece advocating ways the U.S. could try to reinvigorate diplomacy with Iran.
"Pressure has helped get Iran to negotiate; but diplomatic negotiation cannot succeed unless each side gets some of what it needs and unless each side comes to believe that the other wants an agreement and is willing to comply with it," Luers, Pickering and MIT's Jim Walsh wrote, at the New York Review of Books. "With innovative and assertive diplomacy, the Obama administration can, in our view, still help change the direction of US–Iran relations, reach an interim nuclear agreement, and possibly open the door to discussions on other regional and bilateral issues."
List of signers of the bipartisan letter: 
Dent, Charles (PA-15), Price, David (NC-04), Barber, Ron (AZ-02), Bass, Karen (CA-37), Becerra, Xavier (CA-34), Bera, Ami (CA-07), Bishop, Sanford (GA-02), Bishop, Tim (NY-01), Blumenauer, Earl (OR-03), Bonamici, Suzanne (OR-01), Bordallo, Madeleine (GU), Braley, Bruce (IA-01), Bustos, Cheri (IL-17), Campbell, John (CA-45), Capps, Lois (CA-24), Capuano, Michael (MA-07), Cárdenas, Tony (CA-29), Carson, André (IN-07), Cartwright, Matthew (PA-17), Christensen, Donna (VI), Clay, Lacy (MO-01), Cleaver, Emmanuel (MO-05), Clyburn, James (SC-06), Coble, Howard (NC-06), Cohen, Steve (TN-09), Cole, Tom (OK-04), Connolly, Gerald (VA-11), Conyers, John (MI-13), Courtney, Joe (CT-02), Cuellar, Henry (TX-28), Cummings, Elijah (MD-07), Davis, Danny (IL-07), DeFazio, Peter (OR-04), DeGette, Diana (CO-01), DeLauro, Rosa (CT-03), DelBene, Suzan (WA-01), Dingell, John (MI-12), Doggett, Lloyd (TX-35), Doyle, Michael (PA-14), Duckworth, Tammy (IL-08), Duffy, Sean (WI-07), Duncan Jr., John (TN-02), Edwards, Donna (MD-04), Ellison, Keith (MN-05), Enyart, William (IL-12), Eshoo, Anna (CA-18), Etsy, Elizabeth (CT-05), Farr, Sam (CA-20), Fattah, Stephen (PA-02), Fitzpatrick, Michael (PA-08), Foster, Bill (IL-11), Fortenberry, Jeff (NE-01), Garamendi, John (CA-03), Grijalva, Raul (AZ-03), Grimm, Michael (NY-11), Gutierrez, Luis (IL-04), Hanna, Richard (NY-22), Hastings, Alcee (FL-20), Heck, Denny (WA-10), Higgins, Brian (NY-26), Himes, James (CT-04), Holt, Rush (NJ-12), Honda, Michael (CA-17), Jackson-Lee, Sheila (TX-18), Johnson, Eddie B. (TX-30), Johnson, Hank (GA-04), Jones, Walter (NC-03), Kaptur, Marcy (OH-09), Kelly, Robin (IL-02), Kind, Ron (NY-03), Kuster, Ann (NH-02), Larsen, Rick (WA-02), Larson, Tom (IA-03), Lee, Barbra (CA-13), Lewis, John (GA-05), Loebsack, David (IA-02), Lofgren, Zoe (CA-19), Lujan, Ben Ray (NM-03), Lujan Grisham, Michelle (NM-01), Matheson, Jim (UT-04), McCollum, Betty (MN-04), McDermott, Jim (WA-07), McGovern, James P. (MA-02), Meeks, Gregory W. (NY-05), Miller, George (CA-11), Moore, Gwen (WI-04), Moran, James P. (VA-08), Napolitano, Grace F. (CA-32), Neal, Richard E. (MA-01), Nolan, Richard (MN-08), Norton, Eleanor Holmes (DC), Nugent, Richard B. (FL-11), O'Rourke, Beto (TX-16), Pascrell, Bill, Jr. (NJ-09), Pastor, Ed (AZ-07), Payne, Donald M., Jr. (NJ-10), Perlmutter, Ed (CO-07), Peters, Scott H. (CA-52), Peterson, Collin C. (MN-07), Petri, Thomas E, (WI-06), Pingree, Chellie (ME-01), Pocan, Mark (WI-02), Polis, Jared (CO-02), Rahall, Nick J., II (WV-03), Rangel, Charles B. (NY-13), Roybal-Allard, Lucille (CA-40), Ruiz, Raul (CA-36), Runyan, Jon (NJ-03), Rush, Bobby L. (IL-01), Ryan, Tim (OH-13), Sablan, Gregario Kilili Camacho (MP), Schakowsky, Janice D. (IL-09), Scott, Robert C. "Bobby" (VA-03), Serrano, José E. (NY-15), Shea-Porter, Carol (NH-01), Sinema, Kyrsten (AZ-09), Slaughter, Louise McIntosh (NY-25), Speier, Jackie (CA-14), Takano, Mark (CA-41), Thompson, Glenn (PA-05), Thompson, Mike (CA-05), Tiberi, Patrick (OH-12), Tierney, John (MA-06), Tonko, Paul (NY-20), Tsongas, Niki (MA-03), Visclosky, Peter (IN-01), Walz, Timothy (MN-01), Waters, Maxine (CA-43), Welch, Peter (VT-At Large), Whitfield, Ed (KY-01), Yarmuth, John (KY-03)
(Photo: U.S. President Barack Obama addressing a joint session of Congress in 2011. AFP.)