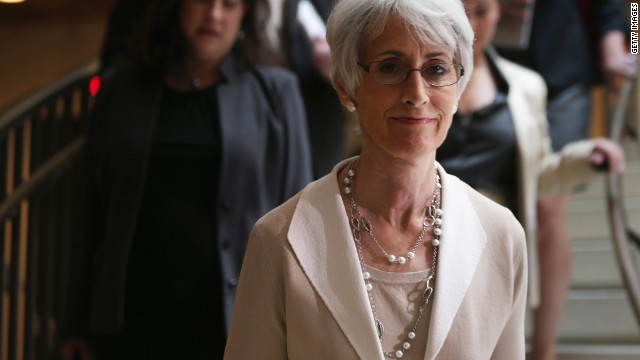 Lead U.S. Iran negotiator, Under Secretary of State Wendy Sherman, is expected to brief Congressional leaders and relevant committee chiefs in classified session this week on the talks between six world powers and Iran held in Geneva last week.
In a brief conversation last week that did not delve into the details of the Iranian proposal, Sherman told House Foreign Affairs Committee ranking Democrat Eliot Engel "that the Iranians appeared serious," but cautioned that the "devil's in the details and made clear that the US negotiators will remain clear eyed as they seek to negotiate a deal to end Iran's nuclear weapons program," Engel said in a statement.
"Ranking Member Engel was pleased that the P5+1 reportedly had a productive first round of negotiations with the Iranians in Geneva," spokesman Daniel Harsha told Al-Monitor Monday.  "But a change in tone is hardly sufficient. He believes pressure brought Iran to the table, and that pressure must be maintained until Iran has verifiably dismantled its nuclear weapons program."
"The Iranians are masters at negotiation for the sake of buying time," Harsha said.  "Given that, Ranking Member Engel would only be open to freezing further legislative action on the new sanctions bill if Iran quickly takes a number of concrete and fully verifiable steps to freeze enrichment and other elements of its nuclear weapons program. And he won't even consider easing sanctions already on the books until Iran verifiably dismantles their program, leaving absolutely no possibility of a rapid 'breakout.'"
Diplomats from the six world powers and Iran have agreed not to publicize the details of the Iranian proposal presented in two days of talks in Geneva last week (Oct. 15-16).
The new Iranian proposal "appears to have addressed some of our concerns, while leaving others unaddressed," a senior US official, speaking not for attribution, told Al-Monitor Monday. "That is what the upcoming talks will further flesh out. …[The process] has begun and now we need to see what the coming weeks will bring."
Iran's deputy nuclear negotiators for the first time met with their US counterparts one on one for an hour in Geneva, and conducted the negotiations with their P5+1 counterparts in English, facilitating the pace and candor of the negotiations, western diplomats said.
But western diplomats were cautious in characterizing their reaction to the undisclosed Iranian proposal, describing a deal as still likely some ways off.
"We learned more about their program and their concerns," a senior western diplomat told journalists in Brussels last week, Reuters reported. "However, it doesn't mean we are close to a solution and that we will have an agreement next month."
We "got more today than we have ever gotten before, but there's still a whole lot more we have to get," a senior US administration official told journalists in Geneva last week, calling the process a "beginning."
Regarding the seemingly lukewarm reaction, the US official said Monday to keep in mind that it's not in the P5+1's interest to sound overly enthusiastic about what the Iranians put on the table, "either from a negotiating perspective….or our own domestic politics."
The administration would be "concerned about not looking gullible to Congress," agreed Mark Fitzpatrick, a former State Department nonproliferation official now with the Institute for International and Strategic Studies (IISS) in London, in an interview Monday.
Diplomats from the P5+1 and Iran have agreed to meet again in Geneva November 7-8, preceded by a meeting of technical experts on sanctions and nuclear issues.
Sherman is expected to brief relevant Congressional committee chairs and ranking members and Congressional leaders on the Iran talks on Tuesday or Wednesday, a House staff member said.
Israeli officials, led by Intelligence Minister Yuval Steinitz are also headed to Washington for consultations with their US counterparts about the Iran talks. Secretary of State John Kerry is also slated to meet with Israeli Prime Minister Benjamin Netanyahu in Rome Wednesday.
(Photo of Under Secretary of State for Political Affairs Wendy Sherman, via CNN.)