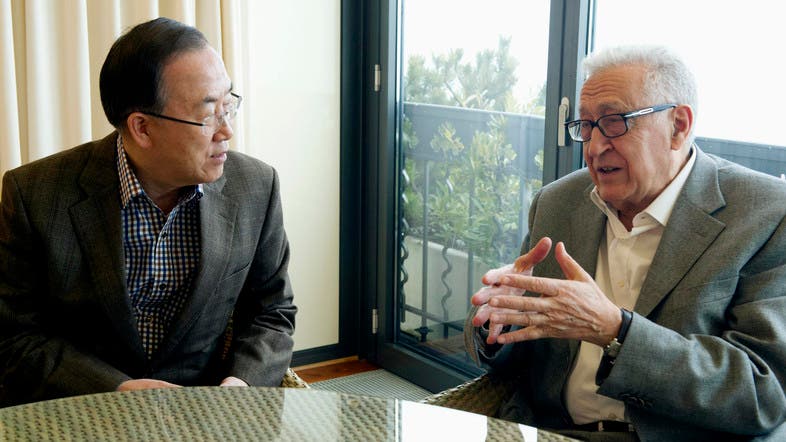 The United Nations on Monday announced that it was formally sending out invitations to a long-delayed Syria peace conference to be convened in Switzerland starting January 22.
To date, there has been no decision on whether Iran should be invited, a spokesman for UN Secretary General Ban Ki-Moon said Monday, adding that the invite list had been determined at a meeting between US, Russian and UN officials December 20th.
"The Secretary-General is in favor of inviting Iran, but discussions between the initiating States have not produced final results yet," Mr. Ban's spokesperson said.
US Secretary of State John Kerry and Russian Foreign Minister Sergei Lavrov will meet next week (January 13) to decide if Iran should be invited to attend, the State Department and UN said.
Kerry said Sunday, as the US has previously, that Iran could come to the Syria peace conference if it formally endorsed the Geneva 1 communique which calls for the formation of a transition body that has full executive authority. But short of that, Kerry suggested that he and his Iranian counterpart, Foreign Minister Mohammad Javad Zarif, are more focused on trying to negotiate a nuclear deal.
"Iran could participate very easily if they would simply accept publicly the Geneva I premise on which Geneva II is based," Kerry told journalists at a press conference in Jerusalem Sunday (January 5).  "That has been the premise of organizing this. …We are going to implement Geneva I, which calls for a transition government by mutual consent with full executive authority; and if Iran doesn't support that, it's very difficult to see how they're going to be 'a ministerial partner' in the process."
"Everybody is happy to have Iran be helpful," Kerry said. "But we have a huge piece of business on the table with Iran right now to complete the task of the implementation language and get moving with respect to the negotiations on their own nuclear program."
"We are not begging to be invited," Zarif told Al-Monitor in an interview in September. 'If they ask us to go, we will go, without any conditions, and we do not accept any conditions."
International talks will convene in Montreux, Switzerland January 22, the UN statement said. Then talks for the Syrian participants, facilitated by UN/Arab League Syria envoy Lakhdar Brahimi, will move to the UN's Palais des Nations in Geneva starting January 24th.
"The Secretary-General views the conference as a unique opportunity for ending the violence and ensuring that peace can be restored," the UN statement said "At the core of this effort is the establishment of a transitional governing body based on mutual consent."
(Photo: UN Secretary General Ban Ki-moon and UN/Arab League envoy to Syria Lakhdar Brahimi. File photo: Reuters)