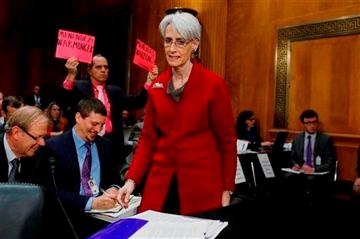 With support waning for Iran sanctions legislation, top US Iran negotiator Wendy Sherman and Treasury Undersecretary David Cohen testified on the Iran nuclear deal to the Senate foreign relations panel Tuesday.
Despite sinking prospects for the Iran sanctions bill he co-sponsored, Senate Foreign Relations Committee chair Robert Menendez (D-NJ) expressed continued deep skepticism about the terms of the interim Iran nuclear deal which went into effect on Jan. 20, and to be looking for ways to constrain the administration's hand for negotiating a comprehensive Iran nuclear deal.
But the nitpicking, somewhat sour tone of the hearing was broken by Sen. Tim Kaine (D-Virginia), who made an impassioned case for aggressive US diplomacy with Iran, while defending colleagues who supported the Iran sanctions legislation from charges of war-mongering.
"We have to be able to look allies and citizens & [US service members] in the eye and tell them we exhausted every diplomatic effort," Kaine told the hearing. "We have got to give diplomacy a chance. …. We have to return to the tradition of aggressive diplomacy."
"Everyone would prefer a diplomatic path to [a] non-nuclear Iran," Kaine said. "We have good faith differences on tactics."
Kaine's comments, praised by several other Senators, prompted Sherman to reach out to lawmakers, some of whom had championed the sanctions legislation the Obama White House fiercely opposed and threatened to veto. "I don't believe any of you are war mongers," Sherman said. "I don't believe anyone prefers war."
If diplomacy is unable to succeed in getting Iran to forgo a nuclear weapon and the US ultimately decides it needs to use force, "I want to be able to say at the end of the day, we have exhausted every opportunity to negotiate a diplomatic" solution, Sen. Dick Durbin (D-Illinois) said, noting he had not declared a position on the sanctions bill, and praising Kaine's defense of colleagues on both sides of it.
Another member of the panel, Sen. Chris Murphy (D-Connecticut), noted that he had been on a panel with Iranian Foreign Minister Mohammad Javad Zarif at the Munich Security Summit last weekend.
Earlier in the hearing, Menendez had pressed Sherman on the administration's terms for a comprehensive nuclear deal. Sherman said she doesn't want to negotiate with Iran in public, ahead of comprehensive Iran nuclear deal talks set to get underway in Vienna Feb. 18. But in response to his questions, she said the United States does not believe the underground Fordo site should be an enrichment facility in a final deal, or that Iran should have a heavy water reactor.
"Where Fordo is concerned, we see no reason for it to remain an enrichment facility," Sherman said. Asked about Arak, she said, "We do not believe [there is] any reason for [a] heavy water reactor."
Asked about how many centrifuges Iran could have in a final deal, Sherman responded, "I am not going to get into a specific number in this setting, but that needs to be addressed." "Will there need to be a reduction?" Menendez asked. "Yes," Sherman said.
She also clarified some misunderstandings about the centrifuge research and development Iran is permitted to do under the Joint Plan of Action (JPOA). Iran, under the JPOA, cannot work on advanced centrifuges not listed in Nov 14 2013 IAEA report, she said. It can only replace centrifuges in enrichment sites of the same type, not with more advanced models, she said.
The Joint Plan of Action "required Iran to come clean on past actions as part of a comprehensive agreement," Sherman said. She suggested there will be an additional step or steps between the Phase 1 deal and the final deal, to bring Iran into compliance with UN Security Council resolutions, that would require Iran to address questions such as possible military dimensions to its nuclear program and alleged weaponization work carried out at the Parchin facility to which the IAEA has not gotten requested access.
"Iran has not rejected" addressing it, Sherman said. "It knows it has to be addressed."
Several Senators expressed concern about reports of European business delegations flocking to Iran and whether that will undermine maintaining existing sanctions many believe are needed to keep the pressure on Iran to get a final deal. But both Cohen and Sherman said they had made clear to every foreign official that the United States intends to continue to vigorously enforce existing sanctions and to prosecute any entity that violates those, whether friend or foe.
"Iran is not open for business," Sherman said.
Sherman also said that it was her understanding, after U.S. consultations with Russia and Iran, that a reported Russia/Iran oil for food deal is not going forward.
(Photo: US Under Secretary of State Wendy Sherman at the Senate Foreign Relations Committee Tuesday February 4, 2014. AP Photo/Charles Dharapak.)