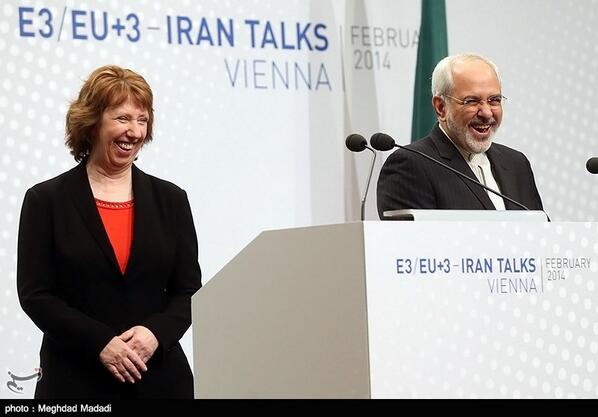 Vienna_ The first round of comprehensive Iran nuclear deal negotiations concluded here Thursday with agreement on all the issues that need to be addressed and a timetable of meetings over the next four months to try to do so.
"We are at the beginning of a very difficult, complex process," a senior U.S. official said Thursday. "It's going to be both a marathon and a sprint….We have a long distance to cover in a short period of time."
"We have had three very productive days during which we have identified all of the issues we need to address in reaching a comprehensive and final agreement," European Union foreign policy chief Catherine Ashton announced at a brief joint press conference with Iranian foreign minister Mohammad Javad Zarif Thursday morning.
"There is a lot to do," Ashton said, in a statement that Zarif later gave in Persian. "It won't be easy but we have made a good start."
Political directors from six world powers as well as Zarif and Ashton and their teams will reconvene for the next meeting in Vienna on March 17th. That meeting will be preceded by technical experts consultations among the six powers and Iran, that seem like they will become almost ongoing throughout the next months as negotiators aim to advance a comprehensive accord.
"We all feel we made some progress," the senior U.S. administration official, speaking not for attribution, told journalists in a briefing here after the meeting concluded Thursday. "We can't predict all ahead. But we do now have a path forward for how these negotiations will proceed."
The US official described the meetings as "constructive and useful," and said they discussed "both process and substance." They had produced a "framework for going forward," she said, although one that is apparently not yet officially on paper. "We are trying to do so in as open and transparent" a manner as possible, the U.S. official said, but "it's critical to leave space for everyone's points of view to be heard and taken into account."
Regarding Iranian Foreign Minister Zarif's reported complaints about some recent US officials' statements complicating his efforts to sell the negotiations at home, the U.S. official said the two sides had agreed to try to be thoughtful about what impact their statements to domestic audiences have in the other's political space. Iranian hardliners have reacted negatively to Secretary of State John Kerry saying in a recent interview that "all options are on the table," and to US Under Secretary of State Wendy Sherman telling a Senate committee this month that the comprehensive deal will address such issues as Iran's ballistic missiles, which are mentioned in UN Security Council resolutions but are not strictly in the nuclear issue purview of the P5+1, according to the Iranians.
In turn, media coverage of Iran's recent marking of the 35th anniversary of the Islamic revolution, for example, has shown Iranian protesters proclaiming 'death to America,' some carrying posters denigrating President Obama and Sherman, among other frequent statements that antagonize Israel and the United States.
"Everybody in the negotiations have domestic audiences and partners with points of view; they say things the other side won't like," the US official said. "That is going to happen. What we agreed to try to do is be thoughtful [about the impact] those statements have on the negotiation. And to the extent that we can, try to be thoughtful."
Indeed, the U.S. official seemed to show a greater degree of sensitivity to widespread Iranian frustration at remaining international sanctions after the recent interim nuclear deal, by talking up for the first time the legitimacy of some business activities now allowed under the six month deal, including auto and petrochemical sales. And she noted that it would be a positive thing if Iranians seeking fuller sanctions relief realized a comprehensive Iranian nuclear deal could deliver that.
"If the message to Iran is, when Iran reaches a comprehensive agreement…there is a potential that sanctions would be removed, and therefore Iran would see a more normal business environment, so it's important to negotiate a comprehensive agreement, that is a useful message," the U.S. official said. "Sanctions are not an end in itself. We would like to lift them."
"I think the Iranians see [the meeting] not too differently from what the Americans said publicly," Reza Marashi, a former State Department official with the National Iranian American Council , told Al-Monitor Thursday in Vienna. "There are a lot of very difficult isues that need to be addressed, and which will require some creative thinking in order to address them." But negotiators from both sides have gained confidence from their ability to get the interim nuclear deal last fall, despite moments of doubt.
"It is fair to say that this is a very difficult process and it's fair for one to be skeptical, but it's unfair to stop the sentence there," Marashi cited what one senior Iranian negotiator told him Thursday. "To finish the sentence, one must say that everything that has happened up to this point has been unprecedented. We should use that momentum going forward to tackle the very difficult challenges ahead. We should believe that this process can succeed. Otherwise, what's the point."
(Photo of European Union foreign policy chief Catherine Ashton and Iranian Foreign Minister Mohammad Javad Zarif at a press conference at the conclusion of comprehensive nuclear deal talks in Vienna February 20, 2014, by Shargh.)