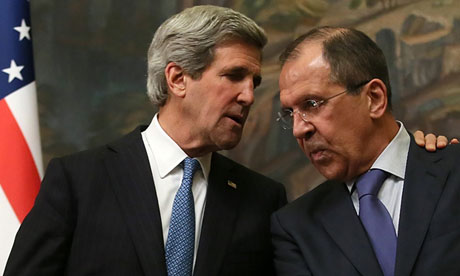 Amid halting progress at Syrian peace talks in Geneva, the United States and Russia held several levels of consultations on Wednesday to try to advance stalled Syria humanitarian relief efforts.
Secretary of State John Kerry spoke by phone with Russian Foreign Minister Sergei Lavrov on Wednesday to push for progress in a UN plan to deliver humanitarian aid to the besieged Syrian city of Homs, the State Department said. The UN plan, presented by Russia to the Assad government last week, has still not received approval from the Assad government, US officials said.
"We expect there will be many paths, many parallel processes, as we all work to pursue an end to this conflict," State Department spokesperson Jen Psaki told journalists at the State Department press conference Wednesday (January 29). "And that means yes, the regime and the opposition talking… That means engagement through the UN.  That means Secretary Kerry and Foreign Minister Lavrov continuing to engage. "
In the call with Lavrov, "Secretary Kerry pressed for Russia's help in providing humanitarian assistance and making progress on that," Psaki said.  "There are 12 trucks waiting outside of Homs with over a hundred tons of food.  These trucks are a hundred yards away from people that are in desperate need of assistance, and they must be granted permission by the regime into the old city of Homs."
"He also talked about the importance of continuing to press the regime to move forward with the necessary steps on the chemical weapons process," Psaki said.
US Under Secretary of State Wendy Sherman, in Moscow to attend a meeting with G-8 political directors, met on Syria Wednesday with Russian Deputy Foreign Ministers Mikhail Bogdanov and Gennady Gatilov, the Russian Foreign Ministry reported.
The Voice of Russia cited a source on the Russian-US consultations in Moscow: "We have discussed in detail the current situation at the inter-Syrian talks and agreed that we need, first, to strengthen cooperation between ourselves and step up pressure on the negotiating parties to interact more actively in searching for a compromise."
The US Syria diplomatic team in Geneva, led by US Syria envoy Robert Ford and including National Security Council counselor Salman Ahmed, also met with Russian counterparts in Geneva on Wednesday, as it has done several times during the Geneva talks, the official said.
Talks between the two Syrian parties are expected to continue until Friday and then resume after a week or so, UN Syria envoy Lakhdar Brahim said Wednesday.
"I do not expect that we will achieve anything substantial" by the end of week, Brahimi told a press conference in Geneva Wednesday. The "ice is breaking slowly, but it is breaking."
US sources on Wednesday denied Arabic media reports that the US was meeting with Russian and Iranian officials about Syria.  Iranian media reports on Wednesday also cited Iranian Deputy Foreign Minister for Arab and African Affairs Hossein Amir Abdollahian denying an Arabic media report alleging a secret meeting between Iran and the Syrian sides in Bern, Switzerland.
(Photo: US Secretary of State John Kerry speaks with Russian foreign minister Sergei Lavrov at a joint press conference in Moscow. Photograph: Sergei Ilnitsky/EPA.)