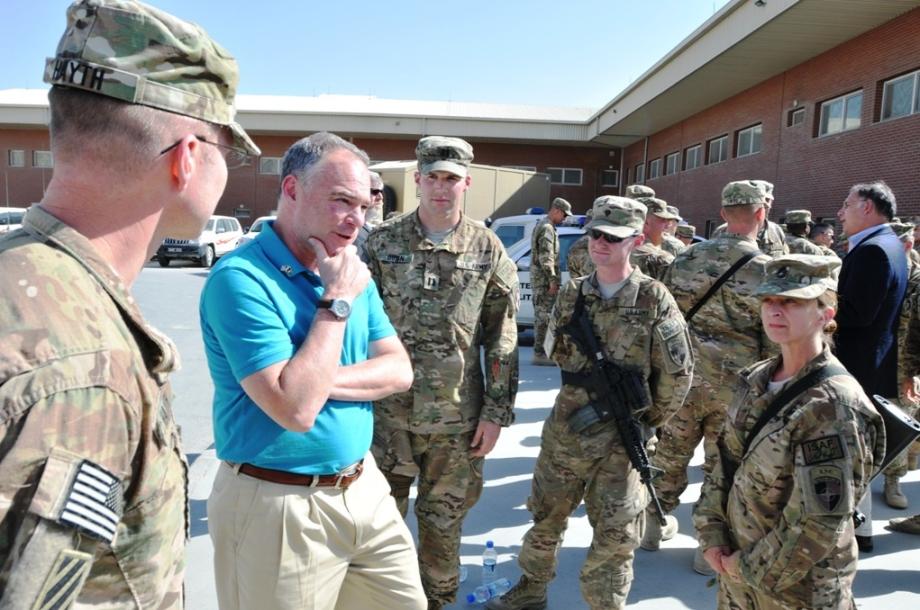 Senator Tim Kaine (Democrat-Virginia), speaking to Al-Monitor Friday before he embarked on a Congressional delegation to the Middle East, said while there is cautious optimism about current U.S. efforts to advance a diplomatic resolution with Iran and an Israeli Palestinian peace agreement, U.S. Syria policy is not going well. And Russia is partly to blame, he said.
"I think Secretary [of State John] Kerry is pretty candid about it," Kaine told Al-Monitor in a telephone interview Feb. 14th, before traveling with Sen. Angus King (Independent, Maine) to Israel, the Palestinian Authority, and Egypt. "Discussions, with all appropriate skepticism about Iran and [an] Israel Palestinian [peace agreement]– while elusive so far– those discussions are going well. Results will prove later if we can get there. But the Syrian situation is not going well. He's been pretty candid about that. One of the main reasons is Russia continues to be an apologist for unacceptable behavior" by the Syrian regime.
"It's one thing for Assad to do what he is doing to his people; we have known from the beginning what he is," said Kaine, who was elected to the Senate in 2012 and became chair of the Senate Foreign Relations Near East and South Asia subcommittee last summer. But Russia is a "country that pretends to aspire to world leadership, that it could get him to change his behavior when it wants to."
The U.S. "was able to change Russia calculations with regard to Syria's chemical weapons," Kaine noted. But on stalled peace talks in Geneva it's "not going well."
What leverage, though, does the U.S. have to get Russia to put more pressure on the Syrian regime? After all, it took the prospect of imminent US military action last fall to get Russia to propose getting Syria to give up its chemical weapons.
Russia does "have pride," the Virginia Democrat said. "They do want to be a global leader." Last fall, it was both the prospect of U.S. military action in Syria, as well as the "global spotlight [on] Syria's use of chemical weapons against women and kids,' that affected Russia's calculations on a chemical weapons deal, Kaine said. Continue reading →