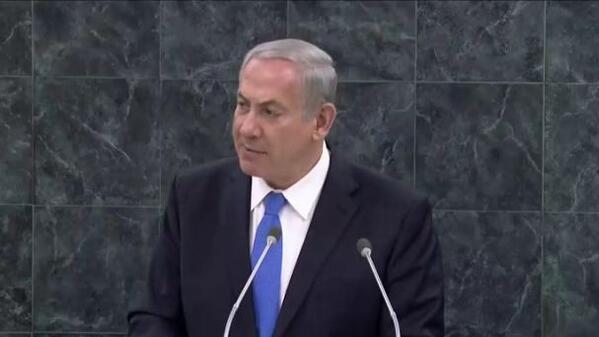 Israeli Prime Minister Benjamin Netanyahu urged the United Nations Tuesday to keep up the sanctions pressure on Iran until there would be a verifiable and meaningful agreement that would inhibit Iran from having a rapid nuclear breakout capability.
"Keep up the sanctions," Netanyahu urged the UN General Assembly as its final speaker on Tuesday. "Lift the sanctions only when Iran fully dismantles its nuclear weapons program."
"The international community has Iran on the ropes," Netanyahu said. "If you want to knock out Iran's nuclear weapons program peacefully, don't let up the pressure. Keep it up."
An Iranian diplomat rebutted Netanyahu's allegations that Iran seeks nuclear weapons, and urged that Israel join the nuclear Non-Proliferation Treaty (NPT) and put its alleged nuclear weapons program under inspections by the International Atomic Energy Agency (IAEA).
"We just heard an extremely inflammatory statement by the last speaker in which he made made allegations against the peaceful nuclear activities of my country," the Iranian diplomat, counsellor Khodadad Seifi, said in a formal response to Netanyahu's speech to the UNGA. "I do not want to dignity such unfounded allegations with an answer other than to categorically reject them all. He tries to mislead this august body about Iran's nuclear program."
"The most ironic part of his comments was when he tried to be more royal than the king and set standards for Iran's nuclear activities and levels of enrichment," Seifi continued. "He must know that no one can dictate to Iran what to do or not to do. As a party to the NPT, Iran is fully aware of its rights and it's fully committed to its obligations. .. Israel is the only non NPT Party in the Middle East."
Full transcript of Netanyahu's remarks to the 68th United Nations General Assembly Tuesday below the jump: Continue reading →