Two Iranian nationals identified Tuesday as having used stolen European passports to board missing Malaysia Air flight 370 are not suspected of links to terrorist groups, Interpol said Tuesday, in releasing their photos.
"The more information we get, the more we are inclined to conclude it is not a terrorist incident," Interpol Secretary-General Ron Noble said Tuesday.
Pouria Nour Mohammad Mehrdad, 19, and Delavar Seyed Mohammad Reza, 29, arrived in Malaysia from Iran on February 28 on their Iranian passports. They checked into flight MH370 in Kuala Lumpur Saturday (March 8), using European passports reported stolen by their owners in Thailand in 2012 and 2013.
Pouri Nour Mohammad Mehrdad, 19, was booked through Beijing onto Amsterdam then Frankfurt, where his mother resides and was waiting for him. The mother contacted authorities when he did not arrive, Malaysia's police chief told reporters near Kuala Lumpur Tuesday.
Delavar Seyed Mohammad Reza was also booked from Kuala Lumpur through Beijing to Amsterdam, and then onto Copenhagen, reports said.
Iran on Tuesday said it has offered to cooperate with the investigation into the missing Malaysia Air flight and reports that Iranian nationals were passengers on it.
Iran is "following up on reports regarding the possibility of two Iranian passengers aboard the plane," Iran Foreign Ministry spokeswoman Marzieh Afkham said Tuesday, Agence France Press reported.
"We are offering our cooperation to obtain more information" and would provide "any information on the Iranians and their status as soon as it is available," she said.
On Monday, a contact of the two Iranian men spoke to BBC Persia and sent a note to CNN with a photo of the two men saying they were ordinary passengers, who were using the stolen European passports to try to get to Europe, and saying that he had been cooperating with Malaysia Air.
"I have some information about the 2 people who was in MH370 with stolen passport," the Iranians' contact, using the handle mamadDC, posted on CNN's website from Kuala Lumpur Monday. CNN later removed the post, but Al-Monitor saved it and the accompanying photo, which matched that of the two Iranians later released by Interpol.
"On[e] of them was my high school friend," he said. "And I already give the information to the Malaysian airline…I thought maybe my information can help to the world. and i put the last picture of them."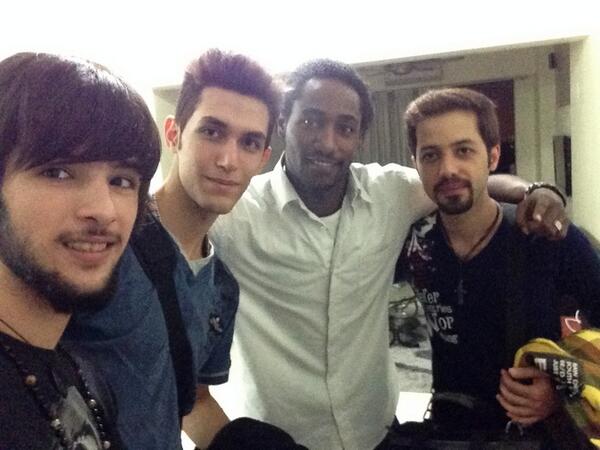 The second man on the left is Pouria [Nour Mohammad Mehrdad], who used the stolen Austrian passport, their contact wrote. The man on the far right, [Delavar Seyed Mohammad] Reza, used the stolen Italian passport.
The men identified in the photo provided by their friend to media Monday look to be the same as those in photos taken from CCTV released by Interpol on Tuesday. Continue reading →