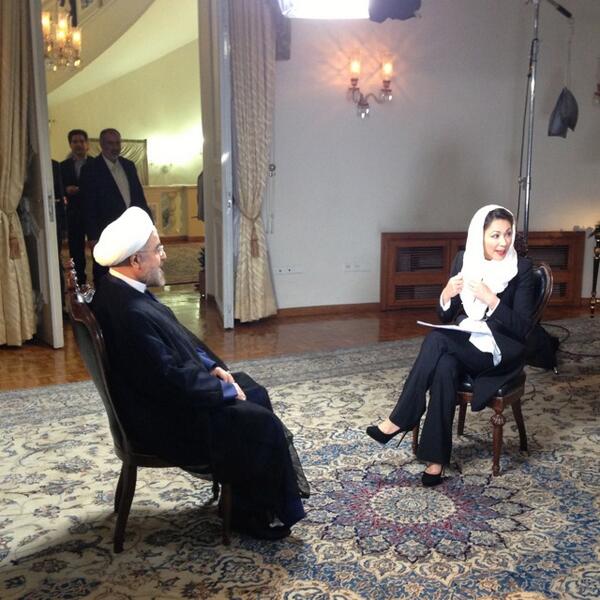 President Obama wrote Iran's President that he sees a way to resolve the nuclear issue, the White House said Wednesday, amid the latest signal that the US and Iran are moving towards direct talks.
"In his letter the president indicated that the U.S. is ready to resolve the nuclear issue in a way that allows Iran to demonstrate that its nuclear program is for exclusively peaceful purposes," White House spokesman Jay Carney said Wednesday, Reuters reported.
"The letter also conveyed the need to act with a sense of urgency," Carney said.
"There is an opportunity here for diplomacy," Obama told Telemundo in an interview Tuesday. "And I hope the Iranians take advantage of it."
Meantime, Iran's President Hassan Rouhani told NBC's Ann Curry in an interview in Tehran Wednesday that Iran will "never develop nuclear weapons under any circumstances," Curry told NBC's Andrea Mitchell.
Visit NBCNews.com for breaking news, world news, and news about the economy
Rouhani also said that he has "full authority to make a nuclear deal with the west," Curry said. "The nuclear issue is on the table."
He also praised the "tone" of the letter he received from Obama as "positive and constructive," he told Curry.
Rouhani's signals of interest in dialogue seemed to be endorsed this week by Iran's hardline Supreme Leader Ayatollah Ali Khamenei. "I am not opposed to correct diplomacy," Khamenei said in a meeting with Iran's Revolutionary Guards Corps Tuesday, Al-Monitor's Arash Karami, citing ISNA, reported. "I believe in what was named many years ago as 'heroic flexibility."
The exchange of more positive comments between the American and Iranian leaders come as Iran on Wednesday freed a dozen political prisoners, including the prominent human rights lawyer Nasrin Sotoudeh and the reformist former deputy foreign minister Mohsen Aminzadeh.
Iran's foreign minister Mohammad Javad Zarif arrived in New York Wednesday and was meeting with senior officials and permanent representatives of the United Nations, Alireza Miryousefi, the spokesperson for Iran's mission to the UN, said Wednesday on Twitter.
Obama and Rouhani are due to address the UN General Assembly in New York next Tuesday, Sept. 24th.
(Photo of NBC's Ann Curry interviewing Iranian President Hassan Rouhani in Tehran on September 18th by Hooman Majd.)