Deputy Secretary of State William Burns, the veteran U.S. diplomat who helped President Obama open a back channel to Iran last year, will retire from the Foreign Service in October, Secretary of State John Kerry announced Friday.
"It is hard to find words adequate to express who Bill Burns is, and what he means not just to the State Department, but to American foreign policy," Kerry said in a press statement Friday.
"With characteristic humility, he has enormous impact and influence in untold ways and myriad issues," Kerry said. "Bill is a statesman cut from the same cloth, caliber, and contribution as George Kennan and Chip Bohlen, and he has more than earned his place on a very short list of American diplomatic legends."
"Like so many others who worked with him, I have seen Bill Burns as a mentor– [and] have learned so much by watching how he does his job," Deputy National Security Advisor Ben Rhodes wrote on Twitter.
Burns, in a letter informing Kerry of his decision to retire in October after 32 years serving 10 US Secretaries of State, wrote that he was "deeply honored to have had the opportunity to serve you and the President….You and the President will always have my deepest respect and admiration."
Burns, in an interview with Al-Monitor in January, said while reaching a comprehensive nuclear deal with Iran would be very challenging, it should be achievable.
"The truth is, at the end of the day … if Iran wants to demonstrate that it is has no interest in pursuing a nuclear weapon … we've made clear…we accept a civil nuclear program for Iran, then it should not be impossible to reach an agreement," Burns said.
"What the long-term possibilities are between the United States and Iran is very difficult to predict right now, given the range of differences between us," he added. "But I do think it's possible to make further progress on the nuclear issue, and I think that's extremely important."
Burns is only the second career Foreign Service officer to be confirmed as Deputy Secretary of State. He has previously served as US Ambassador to Russia, Under Secretary of State for Political Affairs, and Assistant Secretary of State for Near East Affairs, among many other positions in his 32 year diplomatic career.
Sources told Al-Monitor that Burns considered retiring last year, but President Obama personally asked him to stay to pursue the Iran diplomatic channel at a critical moment, which he did.
Diplomatic sources previously considered State Department counselor Tom Shannon, Under Secretary of State for Political Affairs Wendy Sherman, and Deputy National Security Advisor Antony Blinken to be possible contenders to succeed Burns as Deputy Secretary.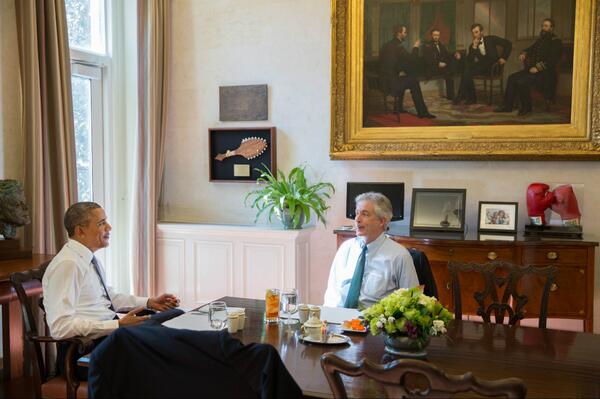 (Bottom photo of President Obama and Deputy Secretary of State Bill Burns by White House photographer Pete Souza.)