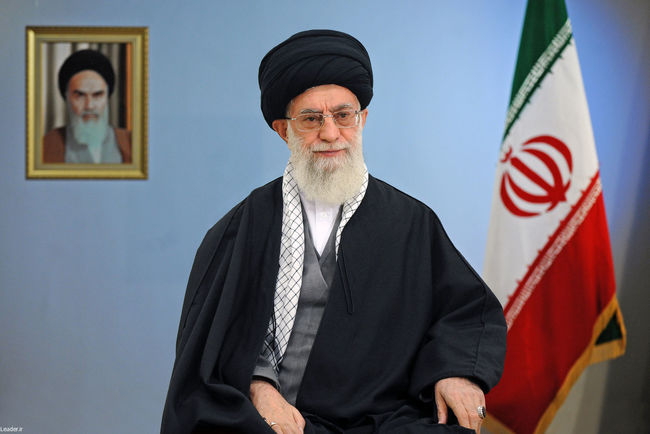 Iran's Supreme Leader Ayatollah Ali Khamenei, delivering his annual Persian New Year's address, struck a defensive tone about Iran's renewed international engagement, warning that Iran has to develop its internal economic and cultural resources as a bulwark against outside influences, and cannot count on the West for sanctions relief.
"A nation that is not strong will be oppressed," Khamenei, 74, speaking from his hometown of Mashhad on the Nowruz holiday, said Friday. Iran should not count on "when the enemy will lift the sanctions," he warned.
In the most controversial of his remarks Friday, Khamenei said the West accuses Iran of restricting free expression, but in many parts of Europe and the West, Holocaust denial is against the law.
"Expressing opinion about the Holocaust, or casting doubt on it, is one of the greatest sins in the West," Khamenei said. "They prevent this, arrest the doubters, try them while claiming to be a free country."
"They passionately defend their red lines," Khamenei said. "How do they expect us to overlook our red lines that are based on our revolutionary and religious beliefs."
Khamenei's comments Friday threaten to undo months of uphill efforts by Iranian President Hassan Rouhani's administration to try to repair Iran's image in the West from the legacy of Holocaust denial and threats to wipe out Israel made by former Iranian president Mahmoud Ahmadinejad.
Last fall, Rouhani and Iranian Foreign Minister Mohammad Javad Zarif took to Twitter to send out Rosh Hashanah well wishes to Jews in Iran and around the world on the Jewish New Year's holiday. Zarif, speaking to German television last month, acknowledged that a "horrifying tragedy" occurred in the Holocaust, and said that "it should never occur again."
Ron Lauder, the President of the World Jewish Congress, blasted Khamenei's comments Friday, saying they show that "it is not a new Iran, but the same Iran with a new face."
"Ayatollah Khamenei's words are unmistakable: he denies the Holocaust happened," Lauder said in a statement to the Jerusalem Post. "Iran needs to renounce Holocaust denial, extremism, and bigotry if the world is to have any faith in its conduct and intentions. Until then, the West needs to be very careful in in engaging with Tehran."
Trita Parsi, author of two books on Iran, said Khamenei's remarks on Holocaust denial were deeply disappointing, and said they may be a sign that he is worried about protecting his system as he reluctantly permits Rouhani to pursue growing international engagement with the outside world to try to seek sanctions relief.
Khamenei's Holocaust denial remarks are "extremely problematic and deeply disappointing, because these things do undermine a very carefully constructed, useful atmosphere that has been built, that can help facilitate a [nuclear] agreement," Parsi, president of the National Iranian American Council, told Al-Monitor Friday.
Khamenei's remarks were intended to "keep the revolutionary ideology on high volume," Suzanne Maloney, a former State Department Iran analyst now with the Brookings Institution, told Al-Monitor.
"But note of course that Holocaust denial was never unique to Ahmadinejad," Maloney added. "Everything that Khamenei said in this speech, he has said before."
"Just because [Khamenei] supports nuclear negotiations doesn't mean he has had a change of heart regarding Israel and the West," Alireza Nader, an Iran analyst at the Rand Corporation, said Friday. "And while he supports Rouhani's negotiations, he is very suspicious that his government is going to open up Iran to Western cultural influences."
"It's important to understand, this is a person who is doing something that he is afraid of," Parsi said of Khamenei, who has served as Iran's Supreme Leader since 1989. He "is permitting a different team of people to start doing things that are opening up Iran. He's skeptical about it. But he is also afraid of it, that he cannot control what happens afterwards."