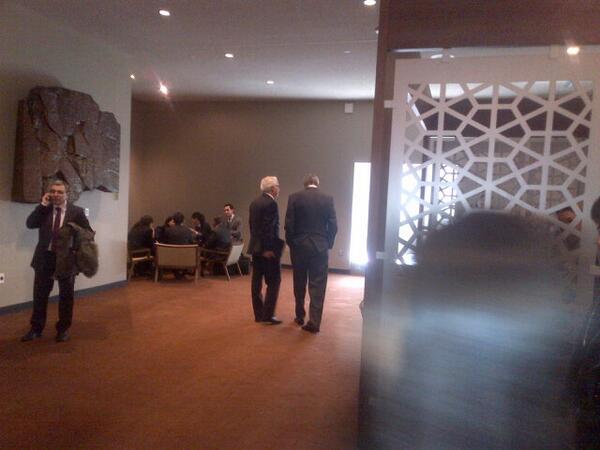 UN Syria envoy Lakhdar Brahimi warned Thursday that if Syria goes forward with presidential elections, it would likely mean the end of reconciliation talks with the Syrian opposition.
"If there is an election, then my suspicion is that the opposition, all the oppositions, will probably not be interested in talking to the government," Brahimi told reporters at the UN in New York Thursday, after briefing the UN Security Council on the situation.
"We would like the help of the Council and all those who can help to make sure that if and when we have a third round it will be a little bit more productive than the second one," Brahimi said.
But Russia on Thursday blocked a draft UN Security Council statement that expressed the body's support for Brahimi's Syria mediation efforts, and would have endorsed his call for parallel talks on ending terrorism and a political transition.
Russia's envoy Vitaly Churkin did not attend Brahimi's briefing, but was seen by Bloomberg News' UN reporter conferring with Syria's UN envoy Bashar Ja'afari outside the Council in the UN's Turkish lounge during the session.
Ja'afari later told UN reporters Thursday that Syria's parliament was discussing an election law that would apply to all of Syria's elections—presidential, parliamentary and local—but did not confirm if presidential elections would go forward this summer.
Britain's UN envoy Mark Lyall Grant took to Twitter Thursday to express disappointment that the UN Security Council could not muster agreement for "even [a] simple statement of support" for Brahimi's efforts.
Brahimi is due to brief the full UN General Assembly on his Syria mediation efforts on Friday. It's not clear if he's seeking a vote to back his efforts from the UN General Assembly, in which no country has a veto.
(Photo by Bloomberg News' Sangwon Yoon, of Russia's UN envoy Vitaly Churkin and Syria's Bashar Jaafari conferring outside the UN Security Council Thursday, via  Twitter.)